Add an element of 'Super' to your cooking and vitamin intake
Did you ever wonder what a superfood really is? While there's no established scientific definition of a superfood, what makes certain foods 'super' is that they're packed full of vitamins and minerals and, in most cases, antioxidants – which, if you are being honest, you're probably not getting enough of!
These nutrient-packed foods can help you fight disease, feel more energetic and even lose weight.
But what if you don't like the hottest superfood taking over the health and wellness world? Or you don't have time eat seven different superfoods to get a beneficial result? That's OK!
To help you with increase your intake of 'superfoods', Allcare pharmacies nationwide are offering customers a full range of essential superfood vitamins, supplements and oils, from cutting edge brands such as Nature's Aid.
Here are some of the essentials to try, and how you can benefit from them:
Natures Aid Ultimate Superfoods €18.95
Feel you could do with feeling more energetic and that your immune system could do with a boost? Ultimate Superfoods contain few calories but really pack a punch as far as health benefits are concerned.
What is it good for? Maintain energy levels, General wellbeing
How does it help? Ultimate superfoods contain 31 of the world's best Organic Superfoods to form a concentrated blend of Superfoods which includes; greens, fruits, berries, vegetables and bio active enzymes. Provide an easy and convenient way of ensuring your body gets the nutrients it needs to help maintain optimum health. Is 100% organic and contains no fillers, binders or other non – active ingredients. Suitable for vegetarians and vegans.
Natures Aid Beetroot €9.95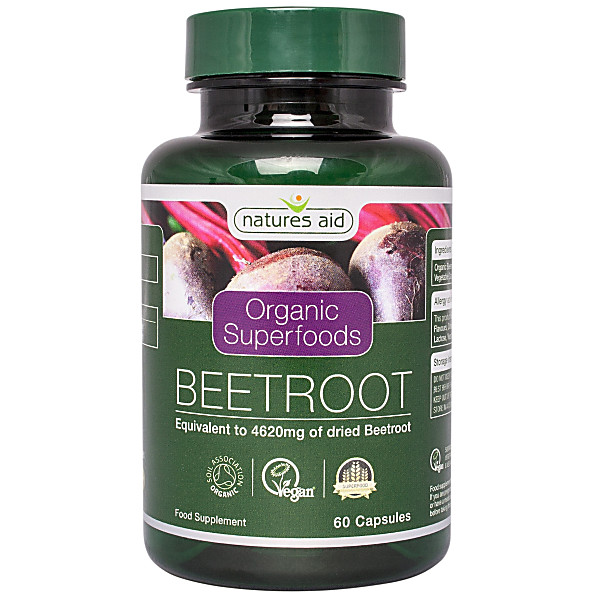 Who would have thought that Beetroot could help your body in so many ways? – your heart, your liver, your blood pressure, while also boosting your exercise and performance? When we think about beetroot, most of us think about the pickled variety that is eaten with salad! However, Beetroot is one of the many cultivated varieties of beets (Beta vulgaris) which has huge health benefits.
What is it good for? Contains Betaine for Cardiovascular support. Can have positive effects on human exercise and performance. Helps support the liver.
How does it help? Beetroot juice has been shown to lower blood pressure. Research published in the American Heart Association Journal Hypertension showed drinking 500 ml of beetroot juice led to a reduction in blood pressure within one hour.
Beetroots naturally contain betaine (also known as trimethyl glycine or TMG) which has been shown to lower the homocysteine concentration in the blood. Homocysteine is a substance that has been linked to heart disease and Alzheimer's disease, so it really helps support your cardiovascular system.
Studies conducted by Exeter University have found positive effects beetroot can have on human exercise and performances; scientists found cyclists who drank a half-litre of beetroot juice several hours before setting off could ride up to 20 per cent longer than those who drank a placebo blackcurrant juice.
The betaine in Beetroot may also protect against liver disease, particularly when due to the build-up of fatty deposits in the liver caused by alcohol abuse, protein deficiency, or diabetes – among other causes. Betaine also helps individuals with abnormally low levels of stomach acid, by increasing stomach acidity.
Natures Aid Organic Pumpkin Seed Oil €10.95
If you use Pumpkin seed oil do you know how it is helping to eliminate things like tapeworm and for men is it a huge help for a healthy prostate?
What it is good for? Organic Pumpkin Seed Oil is a rich source of omega 6 fatty acids and omega 9 oleic acid, as well as circuiting; an unusual amino acid which has anti-helminthic properties, helping it to remove intestinal worms. Just bear in mind, it is not advisable to heat it, therefore pumpkin seed oil is used as a finishing oil, rather than a cooking oil to add extra flavour to dishes. It is great on salads and stuffed pasta dishes.
How does it help? It promotesprostate health; it has been shown to relieve the symptoms of benign prostatic hyperplasia (BPH), a swelling of the prostate gland which causes sufferers to have difficulty fully emptying their bladder. The use of pumpkin seed oil, particularly when combined with Saw Palmetto, seems to be effective at supporting those suffering from BPH. Pumpkin seed oil has been used traditionally to help eliminate parasites from the intestines, such as tapeworm.
Natures Aid Organic Avocado Oil €10.95
Does it occur to you when you are cooking with Avocado oil just how much good it does for giving you that fresh healthy skin and hair?
What is it good for? Organic Avocado Oil is a rich source of Vitamin A, B1, B2, B5, D and E plus antioxidants and is suitable for cooking in high temperatures. It is super for Skin and Hair health and is suitable for vegans / vegetarians. The oil itself is unusual in the fact that it is extracted from the fleshy pulp of the fruit rather than a seed from which many oils are derived.
How does it help?Avocado oil has a very high smoke point of around 480˚F (249˚C) making it a good oil for frying with. As a culinary oil, avocado oil compares well with olive oil. Avocado oil is an excellent oil for those with a dry skin and is more hydrating than coconut oil. There is some evidence that avocado oil can help to repair damaged skin due to the presence of Phyto sterols. Avocado oil can be used in the hair, just like any other oil, and has the benefit over coconut oil of not solidifying in the winter when used as a leave-in treatment. It's great as a deep conditioning treatment due to the presence of biotin which helps to strengthen the hair.
Natures Aid Spirulina €14.95
Do you ever wonder if there one thing that could help weight loss, cleanse your system and give you more get up and go?
For sheer concentration and variety of nutrients, Spirulina stands as the best food of all and does just that. Regarded as nature's 'superfood', Spirulina is one of nature's richest sources of nutrients and includes all 8 essential amino acids all the B vitamins, essential fatty acids as well as chlorophyll (has detoxifying properties).
What is it good for? Healthy & Vitality, Weight Loss, Natural Cleanser.
How does it help? It is nutritionally rich in the concentration and variety of nutrients which help maintain high energy levels and aid weight loss, by helping to satisfy appetite and reduce cravings, while also eliminating toxins from the body.